SOLD!
Nature lover wanted for that beautiful lot for sale  in Playa Pilon, Costa Rica Sur.
1 and 1/2 of an acre or 6,472 sq/m
This is actually one of my favorite lot for many reasons.
Number 1:  The view is captivating. I am not kidding. See the video :
Reduced to $140,000!
Pretty good view hey?
From the building site, ready to build by the way, the first point you see is Playa Pilon, the second point is Playa Pavones. Then looking toward your west, you can see Punta Matapalo, the point of Osa Peninsula. Puerto Jimenez too is part of your panorama.
The property strikes a perfect balance – just far enough off the main road to get away from it all – but close enough to everything you need – world-class surf breaks, local markets and restaurants, and the town of Pavones is only a 15-minute drive away along a tropical coastline road.
This property has everything many of us are looking for – walk to a sandy beach and close to great surfing; beach break and broad ocean views; constant cooling breeze; the sound of waves crashing 200 meters away; healthy fruit trees, palms, and jungle habitat with all kinds of wildlife. The lot is located in an undeveloped area yet convenient to markets, restaurants, and community events; easy construction site; great neighbors in a great community.
Number 3:
The building site is ready for your dream home. The current owner just spend over $20,000 on the drive way. Water and electricity are on site. And yes Internet is available!!! High Speed internet is provided by Claro.
The lot itself measures 1 and 1/3 of an acre or 6,472 sq/m. The building site sits, on the first hill from the beach.
The new driveway runs on the back of the hill, through the yard with mango trees, palms, plantain and many more species. Then the Jungle takes her rights back. Monkeys cruise the treetop that lines the site — squadrons of Pelicans, Green Parrots, and Scarlet Macaws patrol the jungle behind and the shoreline in front.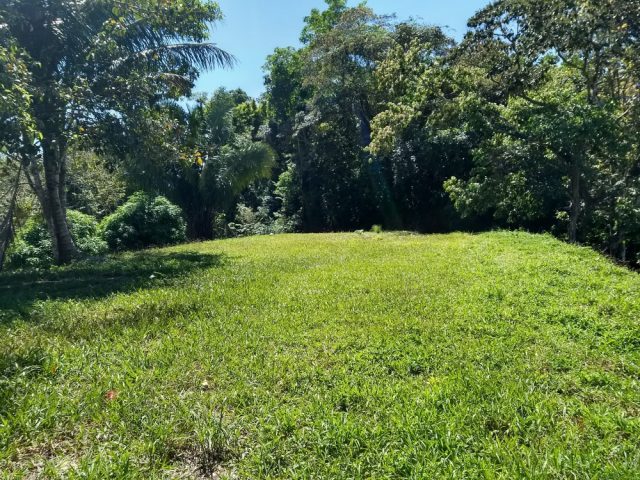 Number 4: The title is clean. The lot used to be part of a big farm that was never owned by Danny Fowlie. So no harsh background story here.
Here are few more pics of the lot.  Reduced to $140,000!!!!